Your Stay in Buenos Aires, Argentina – Dental Tourism
According to the Centers for Disease Control, up to 750,000 patients travel to different countries annually to receive top-notch medical care. At Drs. Pelcman's Practice in Buenos Aires, we are pleased to accept patients from around the world who are looking to improve the health and beauty of their smiles in a safe and comfortable environment. While medical and dental tourism is becoming quite popular, we understand that our patients may be apprehensive about travelling for their oral health care, especially if they have never visited Argentina. That is why we work with our patients every step of the way to ensure a smooth travel and dental experience.
Planning Your Trip to Argentina
The high-quality care that Drs. Pelcman's Buenos Aires practice has become known for begins even before patients arrive in Argentina. The entire staff at Drs. Pelcman's Practice strives to make your visit to Buenos Aires a pleasant one. Our staff is knowledgeable about all aspects of the dental tourism and travel process, and works with patients to help them plan the best trip possible. We are pleased to offer a travel package, which includes special discounts, to our international patients who book their dental tour with us. We understand that each patient has unique needs and wants, and work to customize travel and accommodation plans. In addition to booking your dental appointments, we are happy to make recommendations for tourist activities, restaurants, coffee shops, museums and more. We also offer a bilingual companion service for patients who do not speak Spanish. This person accompany you from your arrival in Buenos Aires until your departure, if you wish.
Accommodations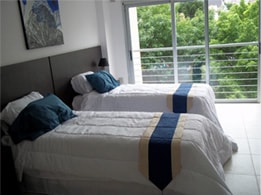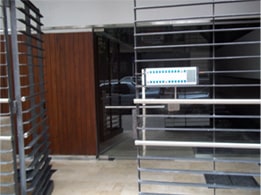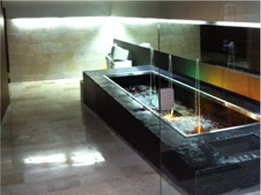 We are pleased to offer luxury apartment rentals that are conveniently located in the center of many tourist attractions, and just a few short blocks away from our Buenos Aires dentist office. These apartments are privately owned and feature many comforting amenities including a gym, rooftop patio, linens and towels and Wi-Fi. They also feature fully equipped kitchens, cable TV and a laundry room. The building is staffed with a doorman around the clock, and security cameras are installed throughout the property so that patients can feel safe and comfortable during their entire stay. These apartments are located at Acuña de Figueroa 1366, Ciudad de Buenos Aires, Argentina.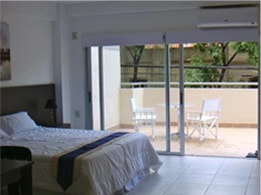 Should you choose to stay in a nearby hotel instead, our staff members can make recommendations for the finest accommodations.
During Your Stay in Argentina
In addition to helping our patients secure comfortable accommodations, we offer a pick-up and drop-off service at the airport and for all dental appointments. This eases the stress or frustration that can often come with travelling in a new area, and ensures that you arrive at all of your office visits on time. We provide comprehensive, yet prompt care to all of our patients so that they can make the most of their time in beautiful Buenos Aires. That is just one of the reasons that we have an on-site dental laboratory where we can create custom dental restorations in a fraction of the time that other dental practices may require. All of our restorative and cosmetic dentistry prostheses are prepared and placed on site, saving patients time, and allowing for a completely customized experience.
Each year, many international patients come to Drs. Pelcman's Practice to receive the latest dental treatments and patient care from talented physicians and staff. Drs. Samuel and Martin Pelcman believe that outstanding dental care should be available to all patients, regardless of their geographical location, and they are happy to treat patients from all areas of Argentina and the United States, Canada and the United Kingdom. If you are interested in receiving teeth whitening, dental crowns, or dental implants in Argentina, contact the practice for more information, or to begin planning your customized trip.